Ok so it has been a while since Jerel has posted an update. So without further ado, here is what has been going on with the Harwood Family. I shall start with the most recent events first.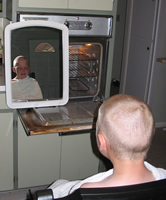 This morning (May-23-2006) Inez and I were having a conversation in Inez's office. Meanwhile Faythe was supposed to be putting on his socks and shoes so we could take him to school. When we went out to follow up with him, we found Esperanza in a pile of hair and Faythe with scissors in hand, needless to say he was busted. This isn't the first time Ronni has had her hair cut by another kid, and I remember stating that if they ever cut another persons hair again they were going to get their head shaved. Faythe learned this morning that we do indeed keep our promises. Esperanza did not get off scott-free either. And she is now sporting a new haircut. Faythe on the other-hand is not very happy with his haircut and it is safe to say that he probably will not cut anyone's hair anytime soon, there is a plus side to this as well, we won't have to pay for a haircut for him any time soon.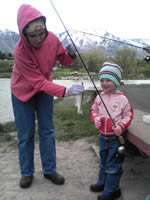 For the past month or so we have been taking the children down to Salem Utah to fish in the Salem Pond, for a pond it is huge, other places would call it a lake. We have been having a good time; usually we will meet Nathan and Lisa McKnight down there and fish for a few hours. Both Esperanza and Faythe have been having a good time down there though I'm not so sure that Ronni is very keen on fishing anymore, now that she has actually caught one. She was pretty excited while reeling in her first fish, but when the time came to take her picture with it, it scared her a little while the fish was wriggling on the line. She went from "this is fun" to "I don't like fishing!" She is slowly coming back around to it though. Faythe is really into fishing, he is the self-proclaimed "Power-bait Master," and if anybodies rod has a fish on, he is more than happy to reel it in for them.
We didn't do much during the last few weeks of April, other than being sick. Not a whole lot to talk about there, and I'm sure you will thank me for not going into detail. In April we did go and see Jerel's Family in California, we had a great time out there and are going back soon for the Jensen Family Reunion (Deby's side of the family,)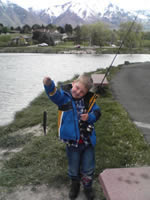 Jerel was accepted to UVSC (Utah Valley State College) and he has been waiting for them to complete the transfer of his credits so he knows what classes he has to take in order to finish his bachelor's degree. He also tries to get out on the river as much as he can do a little Fly-Fishing. One of these days he may actually get good at it.
Inez has reached her first 100 customers here in the Provo/Orem area. That is a real feat for where we are living. This area is a refiners fire for Mary-Kay consultants, and it makes it that much sweeter as she reaches her goals. She is working hard and things are really coming along nicely for her.
Well that is all the news I can think of at this time, as always the Harwood photo-galleries are being updated on a fairly irregular schedule, so check back often, you never know what you will find.