This past Memorial Weekend we attended a Jensen/Quist/Hedlund Family Reunion in Grass Valley, California. I (Jerel) am related to the Jensen/Quist/Hedlunds through my mother.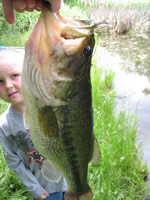 While at the Family Reunion I took the opportunity to take Faythe fishing at one of my favorite fishing holes. Now don't get me wrong I like the fishing here is Utah, it just seems that we mainly fish for trout, and to me there is nothing like hooking into a big Largemouth Bass, and while they do have Largemouth Bass here in Utah, the ones that I have found are nothing like the ones you hook into in a Northern California Farm Pond. Thankfully the Waughmbahs graciously permitted me to take Faythe down to there pond to do a little fishing and as you can see the fishing was great! No sooner had I cast the line out and the lure hit the water than that fish slam into it. I fought it for a little while bringing it in a little way, then I let Faythe bring it the rest of the way in. While we did catch other fish, none of them were quite as big as this one. The next day Inez and I took Faythe and Esperanza, along with our Brother-in-Law Mat and his children back down to the pond. The fishing was great and we all had a lot of fun.
The rest of the family reunion was fun too. I had a great time watching the Faythe and Roni play with their cousins and their Great Aunt Leslie. They chased lizards and Leslie took them out on Shirl and Bob's Pond in a paddle boat, to catch pollywogs.
Leslie also likes to work with clay and let me spend a little time with her wheel to throw some pots. I did pretty well for not having worked with clay for a few years. Then she made me an offer I could not refuse, and that was to let me borrow her wheel. So we made room in our trunk and brought it home. I know what my summer days and evenings are going to be filled with as I really need to get back into practice and to build up a portfolio.
While at the reunion I crunched some numbers and realized that it had been 10 years since I had been to my last reunion. It was wonderful seeing everyone, and I hope that they will keep in touch, so we can build stronger relationships and that they will frequent this site and our photo galleries as I try to update them often with pictures and family news.