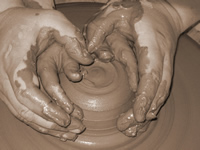 Sorry I do not have any new pictures just yet. It's not that I haven't taken them, it's that I've been too busy/absent minded to upload them to the site, I promise I will get to it next week. Any how you may be wondering what's up with us, since you are reading this page and all. Well this has been a pretty busy summer for us. July went by rather quick, with the Birth of Stella, Randy and Sarah Feik's newest addition and family visiting made that month go by pretty quick. We had a great time when My Mother Deby and Aunt Leslie came out to visit for a few days.
Then Mark and Kim, Inez's parents, came out for Stella's blessing and stayed with us. We had a great time with them too. Faythe said that he would like to go spelunking, so Inez picked out the Mt Timpanogos Caves to go and visit. She failed to mention to Mark that it is a 1.5 mile hike with over 1,100 feet in elevation gain to the mouth of the cave. After it was over Mark got his "I survived the climb" ribbon. The caves are beautiful.
As for current news, Inez is getting her red jacket in Mary Kay, she has worked hard for this and we are all proud of her.
School is starting next week for Faythe and I. We are both looking forward to that. Thank you to all of the family that are helping us achieve our education goals, we really do appreciate it.
That's all I have for now, check back later for new pictures.