Things have been pretty crazy around here for the past few weeks, but I feel that it is starting to get back under control.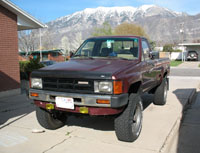 About one and a half weeks ago we picked up a second vehicle. It is a '84 Toyota Pickup. This truck brings back memories for me, as my first vehicle was an '84 Toyota Pickup. This is my go to school, work, and fishing vehicle. It's taken a little work and it should pass the Utah safety and emissions inspection. I wanted to say thank you to Randy, my Bro-in-Law for helping me work on it.
I have about three weeks left in the semester, when it is over I will be taking some more portfolio shots of my pottery from this semester and post them on the grey forest studio website. I should know in the next few days if I have been accepted into the BFA program at UVSC. I will keep you posted. At that time I'll also post more on whats been going on with the kids and I should hopefully have more pictures of them to show you.