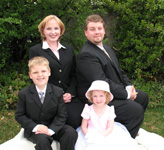 Our Family wishes you the best this Easter Season. We have some new family pictures posted in the photo galleries.
Esperanza has been busy with her preschool class, they have been studying fish and worms. Inez and I made some of the "Worms and Dirt" dessert for her class, all of the girls loved it, one boy wouldn't eat it 'cause it was gross eating dirt, especially when it has worms in it. She loves school and enjoys playing with her friends. Thursday she went to one of her neighborhood buddies birthday party and got to"Build-a-Bear," so now she has been hauling her new teddy bear all over the place.
Faythe has been a little boy… We got a phone call from him last Thursday, he took it upon himself to go play at his friends house after school. He called us from the friends house. That stunt netted him a few days grounding. Not all is bad, he is doing really well in school. He entered and placed in the school art show.
Faythe and Esperanza are both getting ready for their dance recital in June. Inez and I are both looking forward to that.
Inez is learning to throw pots. She doesn't think so, but, she is really taking to it. She made a bowl that looked very good, but didn't want it hanging around to haunt her later on, (I think she has learned from my experiance 😉 ) She is also trying to teach herself the guitar.
As for me (Jerel,) I have pretty much posted all that is happening with me. I am very excited to officially be in the B.F.A. program at UVSC. Actually it is UVU (Utah Valley University) now, they just got their U status. I am happily having fun being a Dad. This is a great time in our kids lives and I am enjoying watching them grow and learn. They say the funniest things (and sometimes embarrassing too.) Inez and I are having a good time watching them grow. I have taken it upon myself to introduce them to some of the classic movies, they have taken to the Marx Bros. very well. Anywhoo that is pretty much all we have going on. I'll keep you posted and post some more art pictures later on.
— Jerel