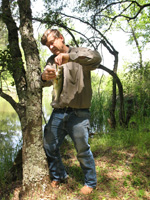 Has it been a month already? Where does the time go? Things have been moving along pretty fast for us. Spring semester has ended and Jerel has started the Summer term at school. He is taking Ethics and Values (Philosophy) and 3d-Design. They are short 7.5 week courses that meet most of the week. Jerel also took on a job at the school as a lab assistant. It doesn't pay allot, but he will be getting paid to learn kiln firing and all that good stuff, it is only 8 – 10 hours a week, he is doing it in addition to his work as a Network Guy for Spring 2 Solutions.
Inez's work is going well too, she has been doing office management/secretarial work for a Mary Kay director here in Orem. She is loved to death and very appreciated in this capacity. We are also very proud of her.
Faythe is doing great. It is hard to believe that he will be seven years old at the end of this month. We are looking forward to his birthday very much.
Esperanza is also doing well. She is growing everyday and loves going to her preschool.
Not much else is going on with us. We are sorry for those we were not able to visit on our last trip to California. It was a quick trip to see Jerel's parents and spend a little time with them between terms. We had a good time and were able to go fishing with Terry, he even caught some fish (Jerel will post the pictures soon). We hope all is well with you and would like to hear from you all to know how things are going.