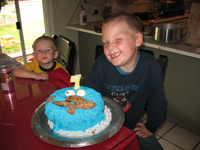 Where to start? This past Monday (Memorial Day Observed) we had Faythe's birthday party. His cousins came to the party along with his Aunt Sarah and Uncle Randy. We barbecued hot dogs and Mamma-Burgers, Inez made hamburgers that were to die for, I also brewed some rootbeer for our culinary delight. The kids played, Randy and I fell into a food coma after eating our burgers. Inez and Sarah folded Oragami boxes and put them on a string of christmas lights as a decoration for the party. It was a great time. I think the children enjoyed themselves as well.
Tuesday evening I (Jerel) went with a friend of mine, Todd Schreiner, to a Skinny Puppy concert. Thinking back this is the third concert I have ever been to. They played in Salt Lake City. This being my third concert I have attended I made the mistake of not bringing ear plugs, no laughing, I did not need ear plugs due to the music being bad (though some of you reading this would argue that point, you know who you are) but the dB level of the concert. My ears stopped ringing after 3 days. I had a pretty good time. I had gone fishing with another friend of mine a few days earlier and while we were talking about music and concerts I mentioned to him that there were just a few bands that I wanted to see and skinny puppy was one of them. I was not disappointed (except in their choice of an opening band.)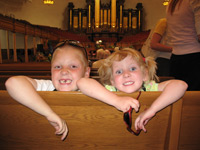 Thursday, May 31st Inez took the children to the Beehive House and Temple Square. They learned about Brigham Young and his household. They also got to go through the Tabernacle at Temple Square. During the tour they were given the pin drop demonstration of the acoustics at the temple. Inez says that they had a good tour. The "cool" part of the house (the back) was built after the railroad had been completed. She thought it was interesting the differences between the front and back parts of the home. The front was "rustic" you could tell that it was all handmade, pioneer type construction, whereas the back had allot more color and was filed with manufactured furniture. The other interesting part was being able the read the journal entries of Brigham's youngest daughter and her descriptions of their family gatherings. Inez said that the feelings you get about Brigham Young from reading church histories and other peoples accounts is that he comes across cold and practical, whereas when you read his daughters account of him, he was a very loving father who cared for his family very much.
This past Friday was the father and sons campout for our ward I gave faythe the option of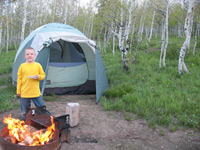 going to sand mountain with the rest of the ward or he and I could spend some time one on one time camping elsewhere. He wanted to spend time with just me (of which I have no complaints) so we packed up and went to the Gooseberry Campgounds in the Manti-La Sal National Forest. The drive took about an hour, once there we picked a campsite and set up the tent, then we drove bout a mile down the road to the Gooseberry Reservoir and went fishing. There wasn't any "action", the fish just weren't biting. So after an hour or so we went back to camp and I taught Faythe about setting up camp fires. We did some prep-work on the campfire and our preparations paid off as it only took one match to light the fire. Faythe picked the dinner menu so we had "Pigs in a Blanket", I introduced him to s'mores. After listening to a chapter from The Book of Mormon on my iPod we drifted off to sleep. The birds woke us up around 5 a.m. I think they were singing to keep themselves warm. After laying in our sleeping bags working up the courage to get our day clothes on and go fishing. Eventually we got in the truck and headed back to the lake. The air was so cold that the water had steam coming off of it. As we were fishing I had to keep knocking the ice out of our guides. After 10 – 15 minutes Faythe decided that he had had enough of the cold and headed back to the truck. I decided to keep fly-fishing.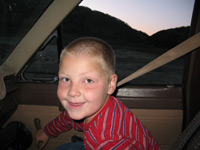 Soon I couldn't handle the cold either and went back to the truck, we sat with the truck idling waiting for the sun to come up. After the sun came up we went fishing again. After a few hours of casting (we weren't catching) we headed back to camp, cooked breakfast and then packed up the truck. On the way to the camp I noticed another road that would take us back to the main highway, I decided to head back that way instead of the way we came in. Two hours later we made it to the highway. The scenic route was 28 miles of dirt road. The road wound over ridges and down valleys, at times it felt like I was driving on the "Top" of the world. That route added a couple of hours to our trip home, but it was worth the drive.  All in all it was a great camping trip.
The weeekend before all of us had gone camping up at the Rock Cliff Campground next to the mouth of the Upper Provo River and Jordenelle Reservoir.  We had a great time up there, Faythe and Esperanza got to go to a Junior Ranger activity where they learned about Birds of Prey. We also saw a Momma Moose and her calf.  Inez and the Kids saw some eagles and we had some prarie dogs as companions in our campsite.
That is pretty much what has been happening with us.  I'm going to try to make a weekly posting (not a weakly) posting every Sunday.  Please feel free to drop us a line and let us know what is happening with you.  Our email addresses are easy it is our first-name@harwoods.org, just replace the first-name with whomever you want to send the email to.