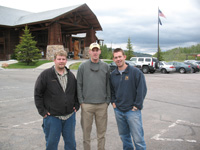 Ok, so I know it's Tuesday and I haven't written on last weeks activities yet. So let me recap what happened. For me (Jerel) there was school as usual, I did skip class on Thursday to go fishing. This is the only time all term that I missed a class and it was for a good reason. Charlie Ethington a.k.a. Rod Killer, one of my mission companions, was in town for a business conference from Arizona. Kevin Wright, one of our mutual mission companions took us fly-fishing up on his families property in Duchesne. Unfortunately the fish weren't too interested in what we were offering, it could be the freak storm that moved through last Wednesday and Thursday threw them off, at least that is my story and I am sticking to it.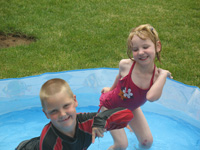 Towards the beginning of the week the kids spent a little time in the wading pool. Inez caught them with the camera. Both those kids can be real cheese-balls.
Friday Inez took the kids to Heritage Park, "This is the Place." The kids got to do a bunch of activities. They learned about spinning wool, they made bread and attended a pioneer school. They also rode some ponies and in a wagon. They played some of the games that pioneer children played. And Esperanza got to do laundry the pioneer way.
Friday afternoon we drove up and had dinner with Randy and Sarah. Randy's Ram Charger is coming along quite nicely.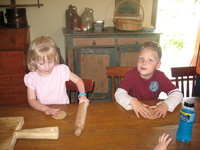 I don't remember what we did on Saturday. Anyhow that's all for last week, as always we have posted pictures in the photo-gallery so take a trip over there and look around. You will have to have a user account set up to see our family pictures, if you need help with getting one set up, or cannot remember your username/password email or call Jerel and he will help you out.
— Jerel