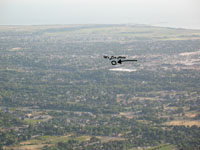 First off, HAPPY FATHER'S DAY to all of the Dads/Granddads in our family.
I'm going to run this update in reverse. Yesterday we spent the day spring cleaning, I also went to the college and pulled some of my work out of the kiln. I may post some pictures of it on my portfolio site. Friday Inez and I took the kids up Provo Canyon to Vivian Park for a picnic. Afterwards on our way home we took a little detour and found the Utah Valley overlook, Utah Valley doesn't look quite so busy from up there. And it looks allot greener, there are more trees here than I have pictured in my mind.
Thursday Inez and the kids went with Lisa and Sierra McKnight to Welfare Square. Inez said this is not a place to take kids, it is a bit boring (ok allot boring.) Lisa and Sierra are doing well, Sierra has grown allot (including hair) she now talks and says things like "No, no, 'Nez" It makes Inez laugh just thinking about it.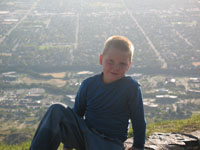 Thursday I fired my first gas kiln firing. It took about 12 hours to reach cone 10 (~2350 Degrees Fahrenheit) when it is that hot inside the kiln it sure is hard to see the cone packs. It wasn't as hard as I though it would be. I think as far as gas firings go, it was harder to load the kiln. The hardest part of the whole ordeal is waiting for the kiln to cool enough to open so I can see how my work turned out. I did some testing with glazes this go-round and the temmoku glaze turned out awesome on the porcelain, while my rutile blue still needs some tweaking. I had another first Thursday as I was invited to sit in as a member of an Eagle Scout Board of Review. That was a neat experiance, the last time I participated in an Eagle Board of Review I was the Eagle Candidate.
School is almost out for me (Jerel) I have about 1/2 a week left. After that it will be Family, Work and Fishing all summer till school starts in August.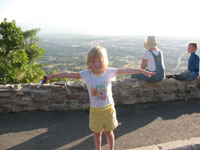 Inez took the kids to the Wasatch Symphony Thursday night, she says that she and Faythe really enjoyed it. The played scores from a few contemporary sources, Lord of the Rings, Narnia: The Lion, The Witch and The Wardrobe, etc. Faythe recognized the songs and where they were from. Esperanza just wanted to make noise and couldn't understand why she wasn't allowed to eat in the theater.