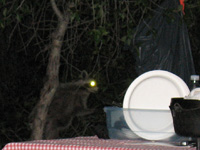 Wow what a week. We were invited down to Inez's Aunt Jan and Uncle Dave's for the Fourth of July. We went down on the third and stayed the night with them in Mt Pleasant, Utah. The morning of the fourth we went with them down to the town breakfast and then later on that morning we saw the parade. Esperanza must have gathered 5 pounds of candy at the parade. I think she had a great time. Faythe was having a great time too, he was a little bumed about losing the rubber duck race as he had plans for the prize money. Our family had a great time and are grateful for the invitation to spend some time down there.
On the fifth of July we went with Randy and Sarah and their family to the Rock Cliff Campground at Jordanell State Park.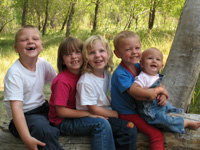 We camped there for 2 nights. As you can see Inez and I had a nocturnal visitor he's back there climbing the tree trying to get into the hanging trash bag. We had allot of other visitors too, from super-sized prairie dogs to little chipmunks.
The heat was brutal in the middle of the day, but we did get to cool off in the river. Speaking for myself I think we all had a good time up there.