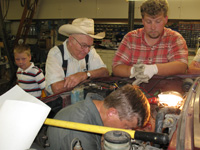 It's time for me to sit and gather my thoughts, to try and remember what has happened over the past month and recount it for those of you who read the website.
Lets see, last time I posted I had just returned from a trip to Washington State for work. Since then the Kids have enjoyed swim lessons. Faythe took to swimming like a fish, probably a shark if you were to ask him, since a shark in more "manly" than a clown fish, which is what I would call him 😉 I have always thought of Esperanza as our water baby, but she surprised us, she did not like being in the big pool as much as I thought she would. She spent allot of her swim lessons clinging to the teacher or the side of the pool (in 2.5 – 3 feet of water no less) I had figured that it would of been Faythe clinging to the side of the pool and Ronni out swimming around. It's amazing how our children can surprise us, of course allot of you being parents already know that. Swim lessons were a two edged sword. There is a nasty bug that is chlorine resistant floating around in some of the public pools out here, Inez and Esperanza both caught it. It is not a fun bug.
While Inez and the kids were doing swim lessons I went up to Boy Scout Camp for a few days, I love being the Scout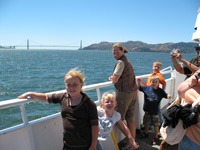 Committee Chairman, it gives me an opportunity to help the scouting organization in our ward and go on the camp outs if I want, but I am not required to go every month. Our Boy Scout troop earned the Bayden Powell award at camp this year, which is a real accomplishment, You have to be on-time for every flag ceremony, earn the spirit paddle/feather at a flag ceremony (which means having a real loud/good troop yell), you have to participate in one of the flag ceremonies; raising or retiring the colors, The troop has to participate in 2 camp activities (campfires, etc.) each boy has to earn a minimum of five merit badges, they have to go on an over night activity and do 4 hours of service projects for the camp. The boys did all of that and still had time to goof around a bit.
When I got home from Camp, Inez and I both realized how quick the summer would be winding down and I still had a couple projects of my own to get done. I needed to put a new engine in my truck, since by process of elimination we have not been able to fix the mis-firing problem. I spent allot of time looking around and checking out businesses that sell remanufactured 22r engines for Toyota and the places I did find in Utah were way too expensive, I found a couple that were outside the state and went with the one that had the least complaints with the Better Business Bureau. After checking out the cost of having the engine shipped to me, I found it would be cheaper to go to California and pick it up myself. Grandpa Bob (Jensen) graciously let me use his shop, and my dad helped me immensely with the engine swap. We were a little worried that the truck would not make it to California so Inez followed me w/the kids. They were able to visit with family and friends while my dad and I worked on the truck. The process of swapping engines was more tedious than anything. We had the engines exchanged by Saturday. It seems the bug that had bit Inez and Esperanza bit me too, I started getting sick last Saturday.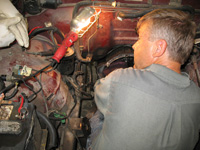 Again I want to express my appreciation to my Dad and Grandpa, and Mother and Aunt Leslie for all of the Help they gave us while we were there, and through the whole process of the engine swap. I was still feeling pretty gunky on Monday so Inez and I decided it would be best for her and the kids to go ahead and head home while I took another day to get better. I left on Tuesday, it is no fun breaking in a green engine (and I'll leave it at that).
School started yesterday, Inez and I are both really excited to be back, as is Faythe. Ronza's preschool starts in a week or so and she is jones'n to start. So that brings us up to date. I hope the update was worth it 😉 when I get more time I'll post the pictures we took over the past month on the site (hey I have to give you a reason to come back).
— Jerel