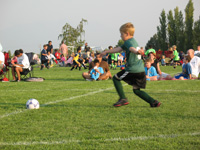 Well the hustle and bustle of the beginning of the term has died down (a little) and we are now in the full swing of school. Inez and I are both doing well in our classes and are enjoying being in school very much. I got a letter from the school letting me know that I made the Dean's List, no the good one, I'm pretty happy about that.
Faythe's soccer is winding down for the fall, he will be having his last practice and game this week. He then has soccer training camp for the next month and we wait until spring for soccer to start up again. He has loved playing soccer and we have loved watching him grow and learn to play on a team. His soccer team has had tremendous growth these past few weeks.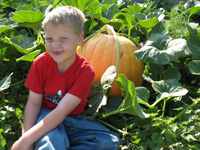 Inez is growing "The Great Pumpkin" for Linus, okay, maybe not for Linus, but she is growing a huge pumpkin for Halloween. The current stats on the pumpkin are 5 feet 9 inches in circumference, and if we had to estimate, it is about 70 pounds. The picture with Faythe sitting next to the pumpkin is a couple weeks old. We'll keep you posted on the pumpkin stats.
Esperanza is the birthday girl, or I should say was the birthday girl. She turned 5 last Monday, the 10th of September. We had a little family party for her a week ago last Saturday up at Randy and Sarah's home. There was a pinata and a cool cake that Sarah made. Esperanza also had a little party in her class, she had to have chocolate milk and dough nuts. Thank you to everyone who helped celebrate her birthday and make it a special time for her.
Last week I spent a little time in Faythe's class.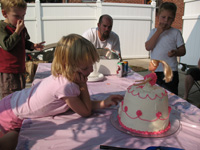 For their social studies the class is studying what their parents do for their occupation. I brought my (actually Leslie's) potters wheel into his class and did a demo on making pottery on the wheel. I spoke about why I am going to school and what I want to do. I then answered questions and spoke about all the different things in the home that are made out of ceramics. From the special dishes that mom brings out for the holidays to the toilet in their bathroom, that comment got a bunch of "ewwws" from the boys in Faythe's class.
I would like to promise steady updates every week, but that will somewhat be left up to our homework schedules and life. I can say I will try to update semi-regularly for you.
— Jerel