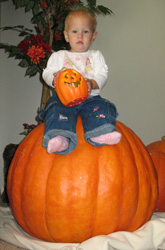 It has been a fun filled couple of weeks for us. Inez had her first major test in her English class, the word is that she Aced it. Faythe and Esperanza have been on fall break, they had this past Thursday and Friday off and also have tomorrow off from school. We went to the halloween pumpkin cruise on the lower provo river with Inez's Aunt Jan, Uncle Dave and some of her cousins. It's a fun little float with the 'oarsmen' dressed as pirates, telling stories and corny pirate jokes. They line the river bank with carved pumpkins, it is neat to look at the talent some people poses in pumpkin carving.
We had a cold snap here, which means that Inez's "Great Pumpkin" is done growing, with the help of a few of our neighbors she was able to get it into the house. As you can see it's a pretty good sized pumpkin. Sarah (Inez's sister) and her kids came down last weekend for General Conference, Randy was out of town working so they spent the weekend with us. We had a pretty good time. I enjoy conference more and more every year.
Now that the fall soccer season is over Faythe has been attending a "Soccer Camp" here in Orem, it is once a week on Saturdays. The class is taught by volunteers, the local US Soccer Olympic hopefuls. He has really progressed in his ball handling skills and is really enjoying soccer.
Not a whole lot else has been going on, at least not out of the ordinary, things that are day to day for us and so we figure you don't want to hear about them. Yesterday my laptop decided it was done with school and gave up the ghost. This is a really bad time for it to do this. I was using it and the pc speaker let out a shrill note and the keyboard shocked my fingers, while it was doing that the screen went black and I couldn't get it to shut down. I ended up unplugging it and pulling the battery out to get it to shut off, I then, tried turning it back on and it won't. I took it apart and cannot find any burnt or broken pieces. Fortunately the hard drive was not fried and all of my data is still accessible via my usb hard drive carrier. As I said though, it is a bad time for this to happen, I use that laptop constantly for school and for work, and with things the way they are for us right now (we're both in school, etc.) I really don't have the money to replace it. 'Ohh well' as my buddy Zac says.
Anywho, that's what is going on with us. I really would like to hear from any of you who read the website, it would help me feel like I am not just talking to myself 😉
I hope that all is well with you.
— Jerel