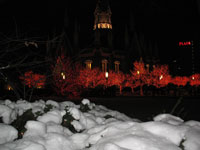 Wow, that was quick. It is hard to believe that Christmas is almost a week past us. We had a great time with my parents. Their train arrived the morning of Saturday December 22nd. While they were here it snowed on and off most of the time and the temperature dropped to a daytime high of 25 deg. Fahrenheit and the night time low was 10 deg. Fahrenheit. Needless to say Mom and Dad Harwood froze their tushes off.
Despite the cold weather we took a trip up to temple square in Salt Lake City to see the Christmas lights. That was a good experience and will become a yearly ritual for our family, as it is for so many other families that live here. Speaking of family rituals, one of our neighbors keyed us to one of the local hot spots for sledding here in the Orem – Provo area. They called it "The Bowl", apparently the City of Provo had a small reservoir by the Provo Temple and for one reason or another they drained the water out and have never filled it back in. The sloped banks of the reservoir make for perfect sledding. Inez and I took the kids up there while my parents went to visit with Fred and Susie Myers. We had a good time, as did my parents.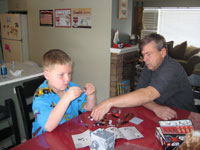 Our Christmas was great, we had a wonderful time Christmas morning. Santa Clause, Inez and I gave Faythe a good start on his Lego collection. He has been playing with them and his marble-works non-stop since he got them. I want to say Thank you to all of you for helping us make this a great Christmas for my family and I. We really appreciate you all.
My Parents boarded the train Friday morning for their ride home. I now understand everyone's jabs at Amtrak, and why it is said that they are reliably unreliable. Their train got into Provo two hours late on their trip here, and the train that took them home was almost eight hours late. They did make it home safe and from what they told me they had a pretty good time riding the train.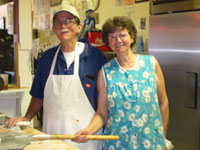 Some of you may know my affinity for a good pizza, and will mourn with me when I share with you the news that my parents gave me while they were here. It was told to me that Franks Pizza Pan will be closing today, December 30th. Pat and Jack gave our family many years of friendship and great pizza, I am very sad to hear that it will no longer be there when we go back to visit Grass Valley. Heck, if it were not for Franks, it is possible that I wouldn't even be here to write this. My parents were introduced to each other by a mutual friend at Franks Pizza.
I hate to end on a sad note like that, so I'm trying to think of what else to say. Ahh, here you go, since we were just talking about Grass Valley "icons", while we were visiting Inez's Aunt and Uncle, Jan and Dave, their daughter sent them a like to a blog that had been set up on behalf of Jonsey, with the intent for people to share their stories about him, and linking from that site is another blog set up for Kenny Bond. If you are not from Nevada County, or if you didn't get out much while you lived there, you probably have no idea who those people are/were.
— Jerel