Yesterday was Faythe's Birthday. He is now eight years old. Faythe and I celebrated his birthday by going camping with the Tolmans. Unfortunately Inez and Esperanza were not able to go. They are still in Camas, WA. with Mark and Kim. A week or so ago Kim got real sick and was admitted into the hospital. We drove up to Washington a week ago to help Mark and Kim out. Inez stayed up there to help them with their moving preparations and will be home on the eleventh of June.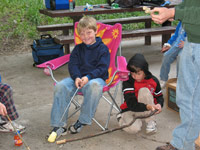 Faythe, the Tolmans and I went to the Whiting Campground in Mapleton, Utah. It was a nice campground in the Uinta National Forest. Apparently we went there at the perfect time of year. It wasn't too cold and the mosquitoes were not out yet, thought there were a billion inch-worms and allot of stink bugs, I'll take those over mosquitoes any day.
Saturday afternoon after Faythe and I got home and showered, we went an saw Horton Hears a Who. It was a pretty good adaptation of the book and got quite a few laughs. I enjoyed it as did Faythe. That night we went to the Tolmans' house and ate pizza and Faythe blew out the candles in his cupcakes. We have been surviving without momma around, but only just…
I have posted some pictures of our recent escapades in our family photo gallery.
— Jerel