This past month has been pretty eventful I think the hardest part is figuring out where to start.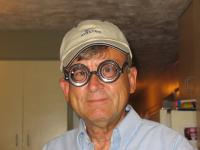 Mark and Kim have been here in Utah for a month now.  Soon after I got home with Faythe from their house, Jeremy (one of my friends at work) mentioned that he and his wife were going to Eastern Oregon for the summer and needed someone to watch their house while they were gone.  I promptly volunteered Mark and Kim for the job, since they were going to need a place to live while they were house/job hunting.  It has worked out rather well for all the people involved.
Inez and Esperanza made it home safe to us, and we promptly finished up our preparations for Faythe's Baptism.  We also had a little spare time on our hands and took the opportunity to go camping.  We went camping at Cleveland Reservoir in the Manti-Lasal National forest.  It was gorgeous up there (yes there are pictures).  We didn't have an inchworm infestation this time, but did have a lot of mosquitoes.  We also picked up quite a bit of Garbage while we were there, people can be so uncaring and irresponsible.
The next week we took the kids fishing, along with one of Faythe's friends and his family.  We went to Payson Lakes.  Before we left the parents of Faythe's friend asked us if they could keep the fish that were caught, our son's friend has allot of food allergies and fish is not one of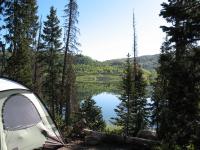 them, we told them it was not problem.  Once we got there I helped rig up Inez and the kid's poles then took my fly rod down to the Dam of the lake where I would have some room to cast.  The spot Inez had chosen was surrounded by trees and I didn't want to have to fight the trees when trying to cast.  no sooner had I gotten down to the dam and had just barely gotten my line wet, than I heard across the lake, "JEREL HARWOOD!!!!"  I need you to come back.  I squinted and saw Inez walking down the path I had recently trod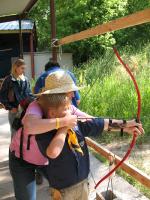 looking for me.  I reluctantly reeled in my line and started hiking back.  On the way back to the rest of the group Inez proceeded to detail the saga that unfolded after I had left to do a little fishing.  It seems that true to his luck Faythe hook a fish and reeled it in.  The fish had swallowed the hook and Faythe cut it loose.  His friends father was holding the fish for Faythe while he cut it loose and Faythe turned to put something down, while he was doing that his friends father turned and smacked the fish on a rock or the bench to kill it.  This took Faythe by surprise and he got very angry.  He had not been privy to the conversation that had taken place before our departure and was not aware that we were going to be keeping the fish, which is something that our family normally does not do.  To make this long story short, Faythe got angry about it and it took some time to smooth they incident over.  By the end of the evening everything was alright again.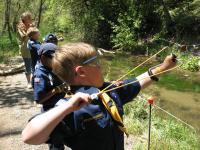 Faythe got to attend his first Cub Scout Day Camp at Camp Jeremiah Johnson.  He had a blast.  While there he got to shoot a Bow and Arrow, A BB Gun, and Sling Shot.  It took some practice, but by the end of the session he could hit the target with the Arrow.  He was pretty good right off with the BB gun.  Faythe started with hip shots then I showed him how the peep-sites worked, after that he was a dead-eye.  I'm not sure how well he liked the sling shot, I think it was a little difficult for him, but he still had fun doing it.  They also made foam swords and had a Battle Royal smacking each other and running around.  Faythe also had his first Pack meeting where he was awarded his Bobcat rank.
The morning of the Fourth of July found us driving out to Mt Pleasant to spend the morning with Dave and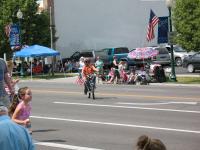 Jan Smith, Inez's Great Aunt and Uncle.  We ate breakfast at their local hospital fundraiser, I think it is kind of funny in a certain way, they were serving grease laden bacon and sausage; maybe they were trying to drum up business as we ate.  Of course who would pay for a fiber-twig cereal breakfast server with non-fat milk?  After breakfast we walked around the Mountain Man rendezvous that was happening in the adjacent park.  Inez found some Mt. Man money that she thought was funny.  Later on that morning Inez and the kids rode in a Children's Parade and then we sat and watched the rest of the parade.  Knowing that my parents were going to arrive in the early afternoon we didn't spend as much time as we would have liked with Jan and Dave.  We arrived at home right as my parents were pulling in the driveway.
The next morning was very exciting for our whole family, Faythe and I had to be at the church early to get dressed in our white Baptismal Clothing.  After we were dressed we met up with the rest of our family in the chapel where we had a little service before Faythe's baptism.  It was a wonderful experience to be able to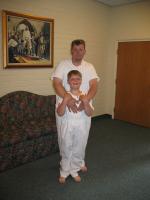 baptize my own Son.  I had gotten to baptize people I taught the gospel to on my Mission in Colorado, this was even better.  I am proud of my son for the choice he made to follow in Christ's footsteps.  I normally don't post much about my religious views here on the website, I guess I don't want my friends/family who read my ranting and who are not members of The Church of Jesus Christ of Latter-day Saints, to think I am being preachy or something along those lines.  I'm not.  I just want to share this moment of my life that was very important to Inez and I.  I have my beliefs and they are very personal and I hold them private, maybe because I am afraid of the pain that I feel when people step on them.  I am a firm believer in allowing people to believe what ever they are inclined to; about life, where we came from, and are going.  Now that I have said my piece I am going to continue.  After Faythe and I had changed out of our wet clothing we joined the rest of the family again and I confirmed Faythe a member of the church and he was given The Gift of the Holy Ghost, this was also a very special moment for me and my words will not adequately describe the feeling running through my heart that day as a I shared these experiences with my son.  Thank you to all of the family members (that means all of you who were there) who shared this with us. You helped to make it such a special day for us.
I was sad to see all of our friends and family leave, that visit was way too fast…  The next day found us in Ogden at Randy and Sarah's house.  Their newest addition Harlan (I'm sure Sarah will correct me if the spelling is wrong) was blessed by Randy and I was invited to stand in the circle.  It was another great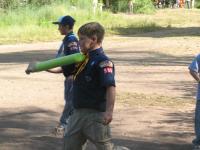 experience.  Though life is tough sometimes, we live a very blessed life.
I spent the first half of last week at scout camp.  That is another one of my little joys in life.  I am still the Boy Scout committee chairman for our troop, which gives me the opportunity to attend the camp outs with the boys.  It is way fun.  I love the Boy Scout Organization and I love being able to associate with these young men, they have so much potential in life and scouting helps to give them the tools that they will need to succeed in life.  There are tremendous opportunities given to these boys through Scouting.  Scout camp was great.  The bugs weren't too bad the overcast skies made the heat bearable.  It also helped that we were in the trees (yes there are trees in Utah).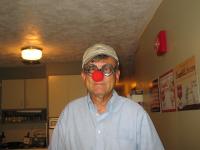 So that brings us up to the past week.  Not allot out of the ordinary has happened this past week.  Inez had an incident at the bus stop, but was equipped to handle it.  If you want to hear more about that you will have to call.  It is one of those stories better via the spoken word than the written word.  I am very proud of her and the way she handled the situation.
That is about all that I have to write for now.  I will come back through and add pictures to this post when I get around to fixing the image editor on the site.  Until then you will have to visit the Photo Galleries to see the latest family pictures, and if you need a username or can't remember your username/password to log in send me an email and I'll set you up.
— Jerel