Esperanza is one year older this month.  She is growing so fast.  We have been extremely busy since the start of this semester.  I feel like we are running with the throttle wide open and as such I hope you all do not give up on me posting semi regularly.  I plan to do so.  I just have to catch up with everything that is going on.
Faythe is doing awesome in school.  He is bringing home high marks in all of his school work Inez and I are so proud of him and the work he is doing.  Esperanza surprised Inez the other day by reading to her.  Inez didn't know that Esperanza could read as well as she does.  I had an idea that she could when we sat down and I helped her read a chapter out of Dick and Jane. She is a smart little girl.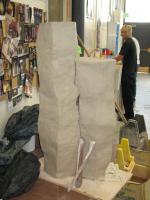 School is running me ragged, I started this post two weeks ago and am now getting around to writing again.  I would go into our current medical woes but that would take up a bit more space than I want to.  Suffice to say, Inez and I are going in for MRI's on our lower backs tomorrow.  I even hurts to wedge clay, which is not a good thing, since I tend to need to do quite a bit of that.  I am taking figure drawing this semester as well and it is going great.  I am very happy in my progress in being able to render the human body.  I have also posted a picture of one of my current works; in progress.  I will write more about it on my portfolio site, 'cause I need to add some more content there too.
Inez is doing well in her classes as well.  She is an excellent writer.  She should be writing more posts, I should teach her how.
Faythe rashed out a couple months ago, and he was recently able to get into the allergist.  It turns out he is deathly allergic to Tree Nuts and very allergic to Cats and Dogs.  When he was younger he showed an allergic tendancy to peanuts so we have been pretty careful to keep him from eating any types of nuts.  As it turns out that was a good decision.  Now we have to carry an epi-pen around with us just in case.
Well that is all for now.
— Jerel