The new semester started and I didn't take the time to write that "Catch-up" Post I wanted to. Oh well. When I get some time on my hands and don't use it for other stuff, I will put down all that has been going on with us.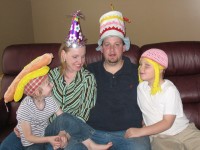 The week of birthdays is in full swing. Inez and I are going over to our friends, The Hamby's for dinner tonight, Matthew is an excellent cook and will be surprising us with his culinary delights. Last night Matthew brought "The Dark Knight" over and we watched it upstairs on the bigger screen. It was a very enjoyable movie and I had a good time with Matthew watching it. There were some pretty intense moments in the film. Last semester went very well for Inez and I and this semester promises to do the same. I am now working at the school as a lab tech, in the ceramics lab.
Well I need to get going and get ready to leave for the Hamby's.
— Jerel